Coronavirus: Nigeria records 239 new cases.
See below the current new cases recorded in Nigeria according to (NCDC) report.
"Coronavirus: Nigeria records 239 new cases"
The Nigeria Centre for Disease Control (NCDC) has announced 239 new cases of coronavirus in 15 states, bringing the total confirmed figure to whopping 54,247.
The national disease control agency made this known in its daily update for Tuesday, September 1, as Plateau state led the pack with 116 new cases. NCDC also announced 33 fresh infections in the Federal Capital Territory (FCT), Abuja and reported 19 new cases in Lagos which is the epicentre of the virus in Nigeria.
Ekiti state followed behind Lagos on the log with 12 new cases while Kaduna and Ogun states recorded 11 new infections each.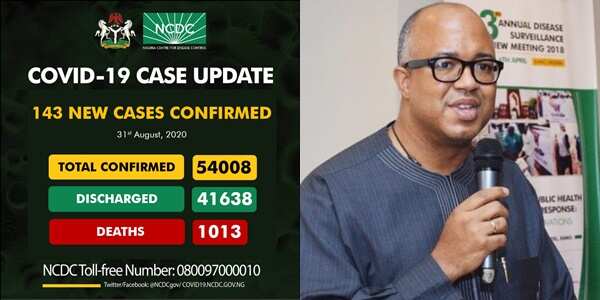 Nigeria records 239 new cases of Covid-19 on Tuesday, September 1. Credit: Twitter (NCDCgov).
Source: Twitter
The agency also reported 8 new cases in Ebonyi, 7 cases in Benue state, 5 in each of Abia and Delta states. Ondo state has 4 new cases followed by Edo with 3 new infections. Imo and Osun states have two new cases each as Bauchi closed the log for Tuesday with just one infection. Meanwhile, 42,010 people have been successfully discharged having tested negative to the infection following treatment.
"Coronavirus: Nigeria records 239 new cases"
143 new cases of

COVID19Nigeria

;
Plateau-35          Kaduna-21             Lagos-19                FCT-13             Ebonyi-9
Adamawa-7        Enugu-7                 Katsina-7                Edo-6               Kwara-5
Osun-3               Anambra-2             Kano-2                   Niger-2             Ogun-2
Benue-1              Borno-1                  Sokoto-1
54,008 confirmed
41,638 discharged
1,013 deaths
NCDC also announced ten new deaths on Tuesday as the fatality figure in the country hit 1,013. In Africa, Worldometers report continued to show that Nigeria still occupies the third place on the continental level behind South Africa and Egypt.
Meanwhile, Legit.ng reported that recent information from the NCDC has indicated that the drop in the number of coronavirus cases does not mean the country has fewer infections.
The health agency on Monday, August 31, at a briefing disclosed that the reduced number of infections is due mainly to the decline in testing by states. Elsie Ilori, the head of disease surveillance for the NCDC said no state in the country collected more than 1,000 samples for testing in August.
"Coronavirus: Nigeria records 239 new cases"